In this article, you will learn how to properly handle disputes made by your clients following jobs that were charged using Workiz Pay.
What is a dispute?
A dispute is when a cardholder — typically your client — questions your Workiz Pay charge with their card issuer. A successful dispute can lead to a chargeback. A chargeback is when the cardholder is refunded the charged amount, with that amount being drawn from your Workiz Pay account. In the event of a chargeback, your business would also be charged a non-refundable $25 fee.
If your Workiz Pay balance cannot cover the chargeback amount, the remaining amount will be drawn from your business bank account.
Workiz will notify you of a dispute via email, detailing the reason for the dispute as well as a description of the dispute.
You may be able to recover the chargeback funds by contacting your client AND formally responding to the dispute.
How to respond to a dispute
The first thing you should do is review the nature of the dispute to determine whether you believe it is justified or not.
Maybe you agreed to refund your client for a service but simply forgot to follow through. In this case, it would make sense to accept the dispute. In the event that you feel a dispute was justified and you want to accept it, open the dispute from the Disputes tab on your Workiz Pay dashboard and accepting the dispute.
If you believe the dispute is not justified, first consider that this is potentially just a mix-up. Perhaps your client simply forgot about the service you provided, or maybe they just didn't recognize the charge on their bank statement.
If possible, we recommend that you contact the client directly to try and resolve the issue. But before you do that, you'll want to make sure you are as prepared as possible.
Preparing to talk with your client
The Workiz Pay dashboard organizes all of the disputes made against your business, making it easy for you to access all of the important information you need before contacting your client.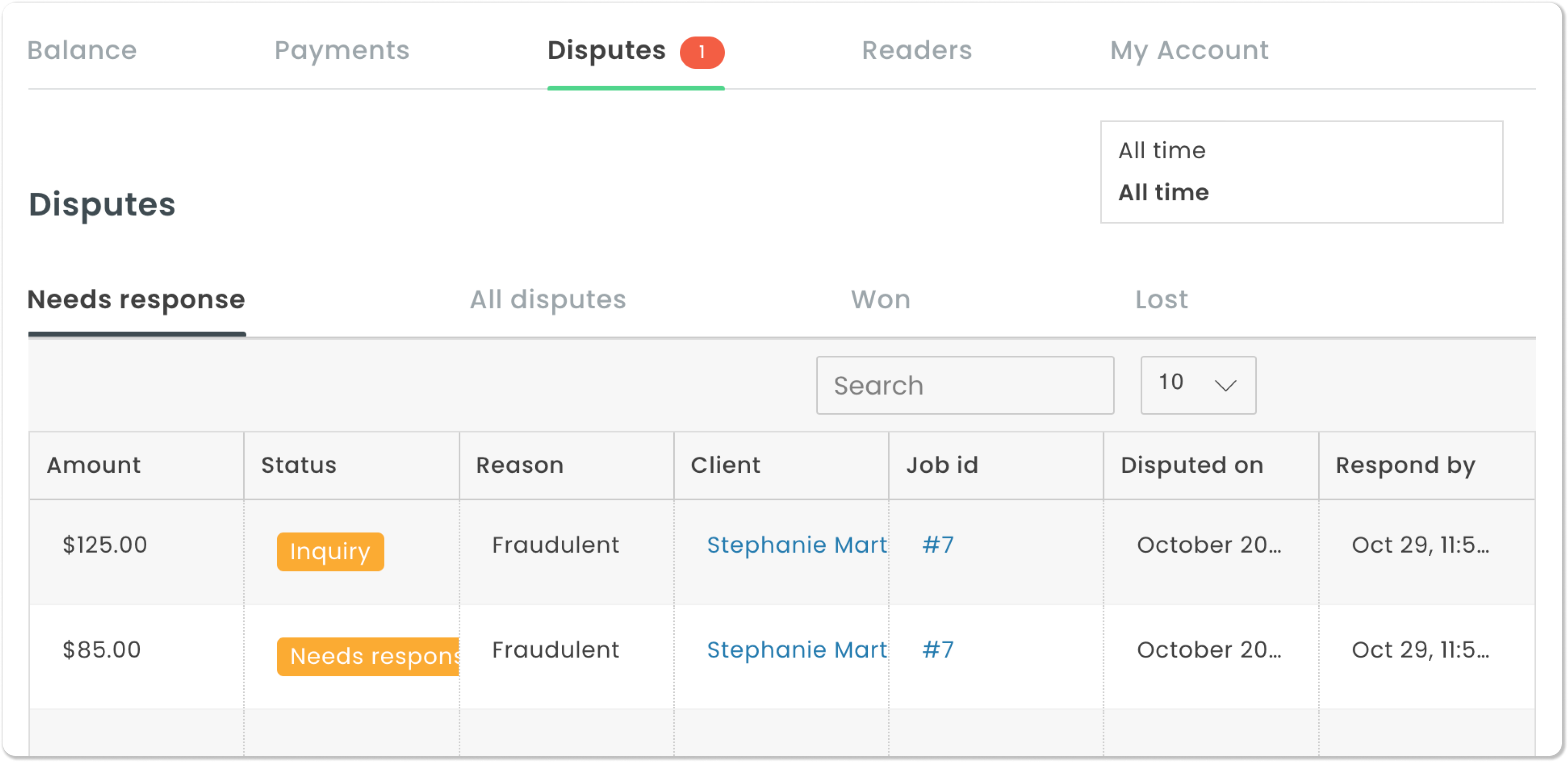 Review the job details you entered in your Workiz account, and review any conversations that may have been stored in your Workiz account (recorded phone conversations and/or text-based conversations).
It is also worth making note of your business's statement descriptor. A statement descriptor is the name that appears on a client's bank statement for charges from your business. You can view your business's statement descriptor from the My account tab of your Workiz Pay dashboard:

To learn more about how to change your Workiz Pay statement descriptor, please see this article.
Talking with your client
When contacting your client, start by explaining who you are and what service you provided to that client. Calmly ask your client why the dispute was filed and determine if there's anything you can do to resolve the dispute.
Submitting a formal response
Even if your client decides to withdraw the dispute, you must still file a formal response with your client's bank. This process involves submitting several pieces of evidence that help explain why your service charge should not have been disputed in the first place.
For more information on gathering evidence in a response to a dispute, please see this article.
You only have one opportunity to submit your evidence. You will not be able to make any changes or additions to your evidence after submitting.
Please make sure you have assembled all of your evidence prior to submitting.
Once you have gathered your evidence, you can submit it directly from your Workiz Pay dashboard by challenging the dispute and providing all of the required information.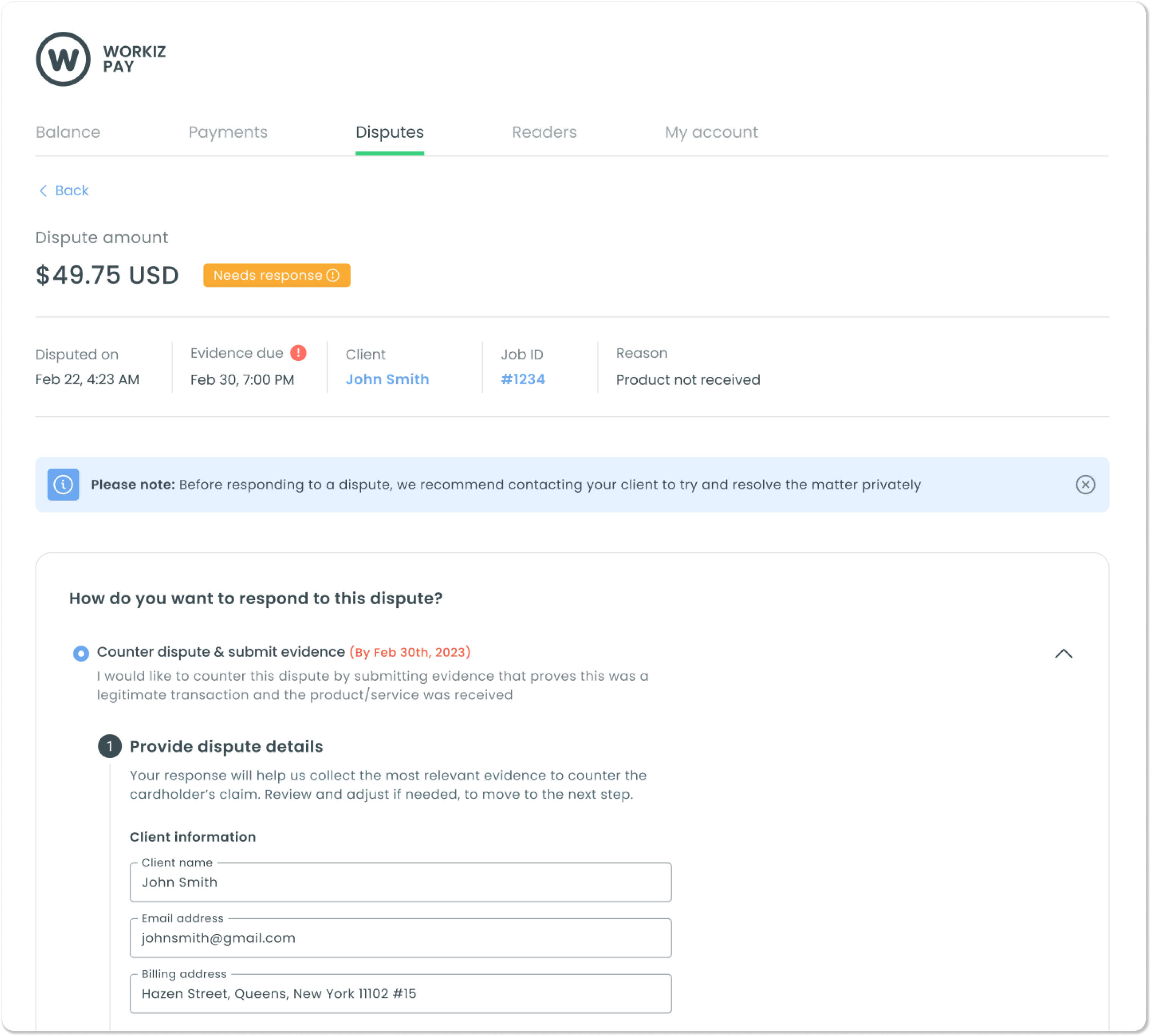 Dispute review timeline
It may take up to three months for your evidence to be reviewed before a final decision can be made. That decision is made solely by your client's banking institution.
Workiz can only provide you with the tools to submit evidence and has no way to impact this judgment call. We also won't have any insight to explain how the bank reached its decision.
Once the bank reaches a decision, that outcome is final. We will notify you once a decision has been made.
If a dispute is resolved in your business's favor, it may take several business days for the funds to be returned to your Workiz Pay account. The timeline will depend largely on the banks involved.