In this article, you will learn how to collect bulk payments for multiple invoices in Workiz.
Workiz allows your clients to pay for multiple invoices with a single, bulk payment through the client portal. The option to make a bulk payment will automatically appear when a client has two or more invoices with unpaid balances. 
They will have the option to pay for individual invoices or all invoices.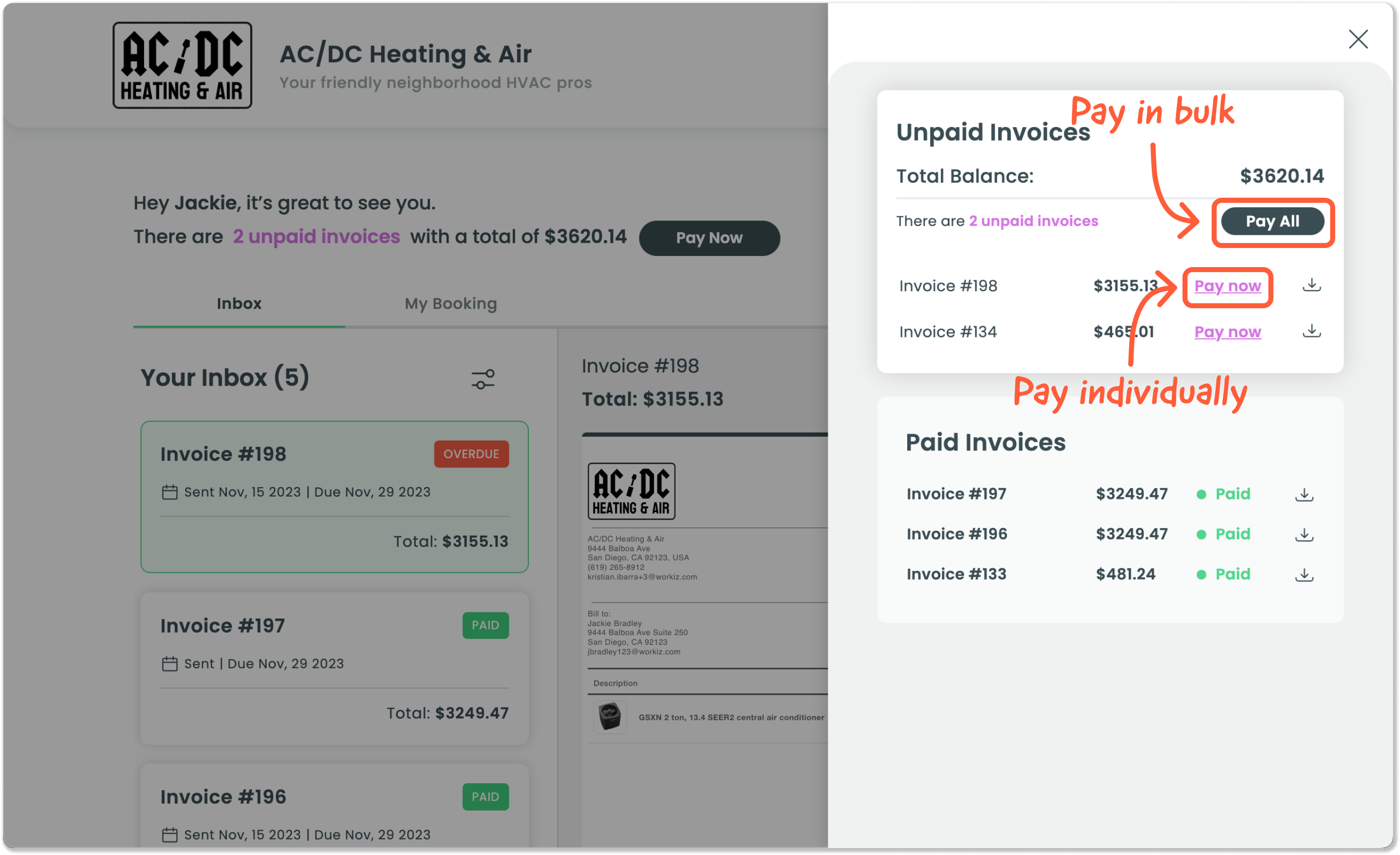 In order to collect payments through the client portal, you will need to first sign up with Workiz Pay. To learn more about signing up for Workiz Pay, please see this article.  
Please be aware that instant payouts will not apply to bulk payments. Even if you have enabled instant payouts, bulk payments will always be processed as a standard payout.
What you will see
Notifications
If your clients make a bulk payment, you will automatically receive an email for each individual invoice that was paid. For example, if your client made a bulk payment for three invoices, you will receive three separate emails. 
You will also receive separate messages in the Message Center. 
Reporting
You will also have visibility of your bulk payments in various places on the Workiz web app. 
The Payments tab on your Workiz Pay dashboard will group the relevant invoices together and display them as a bulk payment. Rather than display the relevant job or invoice IDs, the Job ID column will instead read "Bulk payment." You can see a breakdown of the individual invoices that comprise the bulk payment by hovering your mouse cursor over that part of the Payments table. 

The Payments report found on your Reports page will display each invoice individually, but will include a shared confirmation code that is automatically generated when making the payment. 

The payments sections for the relevant jobs and invoices included in the bulk payment will also display this confirmation code.