In this article, you will learn how to automatically create leads from your lead sources.
Workiz makes it simple to create and manage new leads (potential jobs) right from the web app. Leads are jobs that may or may not happen, and are best used to schedule quotes. If a lead doesn't become converted into a job, it will have no impact on your job cancellation rate. This gives you a more accurate picture of how your business is performing when viewing your Job Statistics report in Workiz.
Workiz also helps you streamline your leads workflow, automatically creating new leads from your lead sources using auto leads.
In order to set up auto leads, you will first need to enable the Leads add-on from the Marketplace.
To learn more about enabling the add-on, please see this article.
How it works
When configured correctly, auto leads allows Workiz to automatically:
Scan an incoming message from your lead source
Create a new lead that includes the client's name, contact info, and appointment info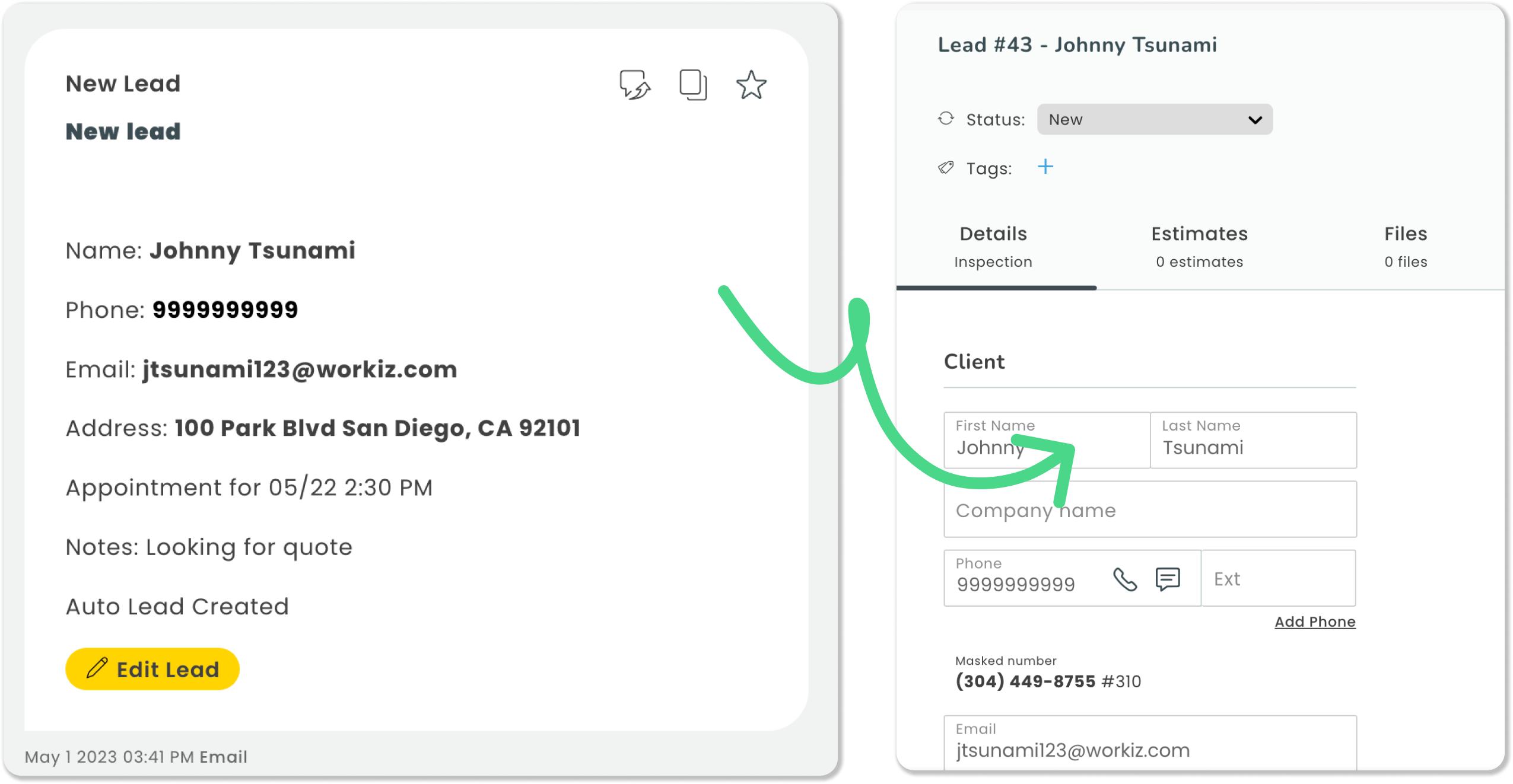 Setting up your auto lead rule
In order to automatically create leads from your lead sources, you will need to tell Workiz what information it needs to look out for.
From the navigation bar, select

> Settings
Under General settings, select Auto leads


From the Auto leads settings page, select Add new
Create your auto lead rule:



Rule name
Where leads are coming from
(Optional) Forward messages
(Optional) Auto response

Parsing: Choose how you want to parse your incoming leads
Automatic: Workiz will automatically detect data from your message (e.g., name, phone number, US address, email address)
Custom pattern: Enter the pattern that your leads are typically formatted in


Type # in the custom pattern text box to see what fields Workiz can automatically map to your new leads.

Select Save
Getting your rule to work
After creating your auto leads rule in Workiz, notify or configure your leads provider to begin sending new leads to your Workiz email address.
If a lead comes from one of the external companies you have previously configured on your account, that lead will automatically be assigned to that company, ultimately helping you track the revenue generated from your lead sources.