In this article, you will learn how to create custom documents from scratch using the custom documents add-on.
Your Workiz account will automatically come with three document templates that you can send to your clients: estimates, invoices, and work orders.
While these documents can be customized to fit your business's needs, you can also use the Custom Documents add-on to create custom documents from scratch to be used for different purposes.
Before creating a custom document in Workiz, please note that custom documents cannot replace the default estimates and invoices you send to clients in Workiz. Workiz allows you to customize your default estimate and invoice templates to meet your specific needs. To learn more about how to customize your default templates, please see this article.
Enabling the Custom Documents add-on
From the navigation bar, select Marketplace
Under Add-ons, select Custom Documents


Turn the toggle switch on to enable the add-on

Creating a custom document
From the navigation bar, select

> Settings
Under General Settings, select Documents

Select Add custom document
Custom document basics: Content blocks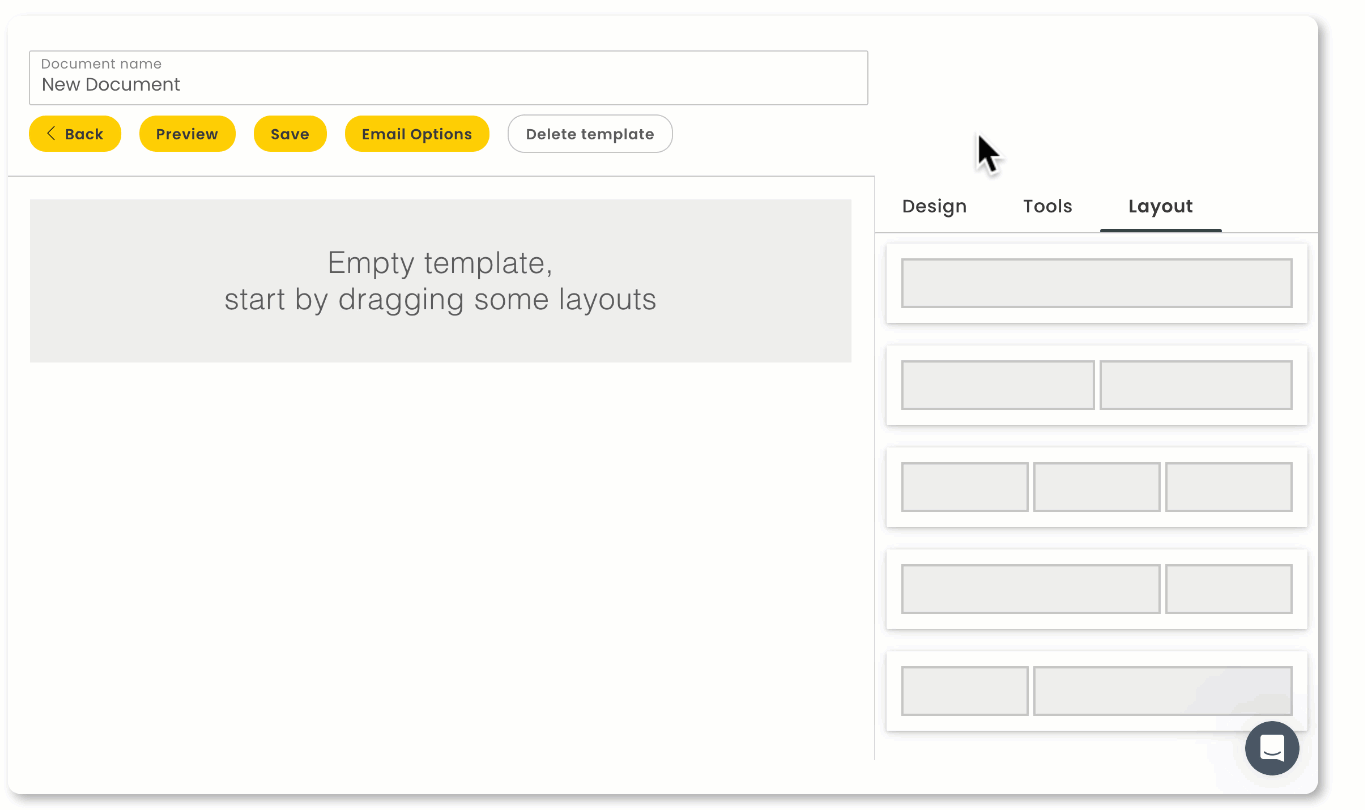 Begin creating your document by selecting the Layout tab and dragging your desired content block layout onto the document editor.
Custom document basics: Tools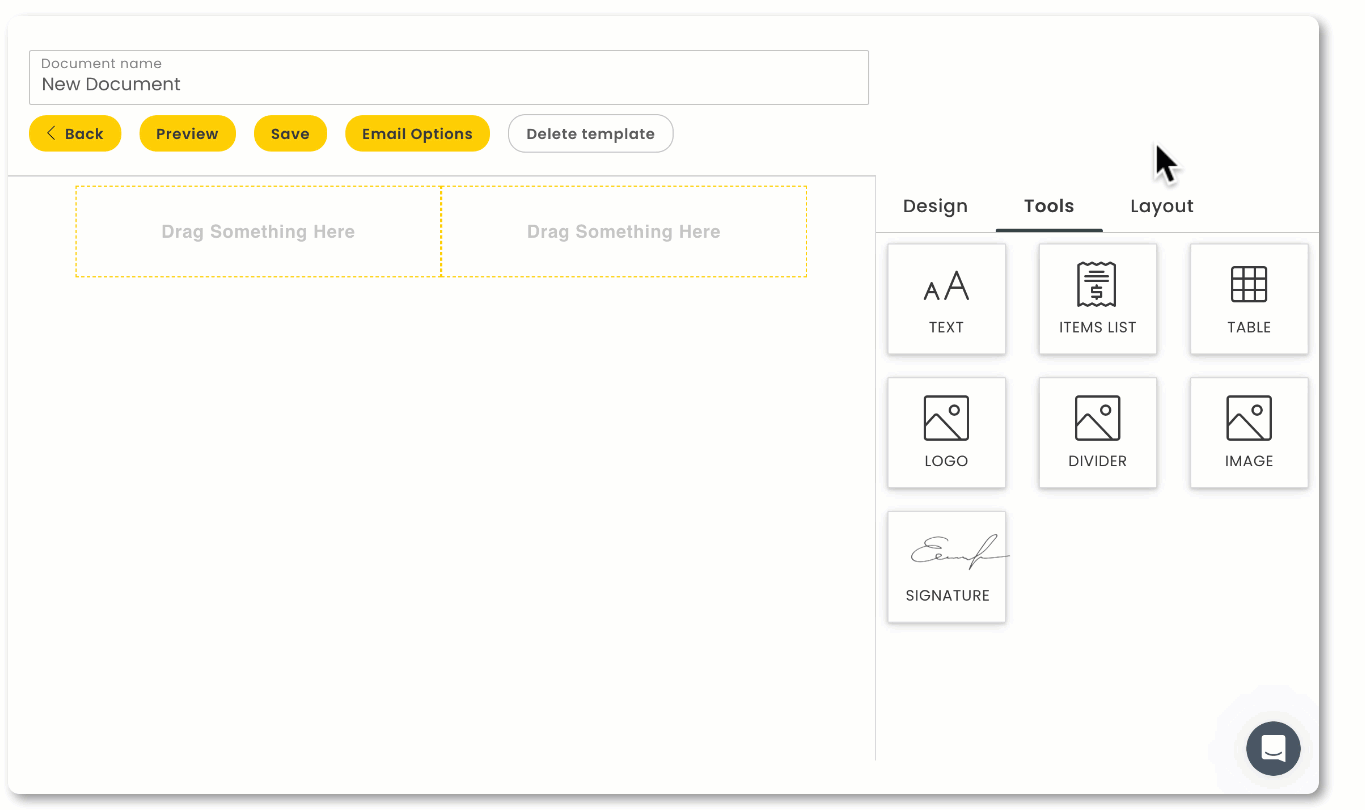 After creating content blocks, you can drag and drop items from the Tools tab to begin adding content to your document. You can add items like a Table, Logo, Divider, Image, Text, Signature field, or an Items List.
The logo is generated based on the one you uploaded into your account settings. To learn more about how to upload a logo to your Workiz account, please see this article.
An items list will automatically be generated based on the items you have uploaded to an estimate, invoice, or job. You can alter the details within an items list by selecting Email options and editing the selections under What can my clients see?.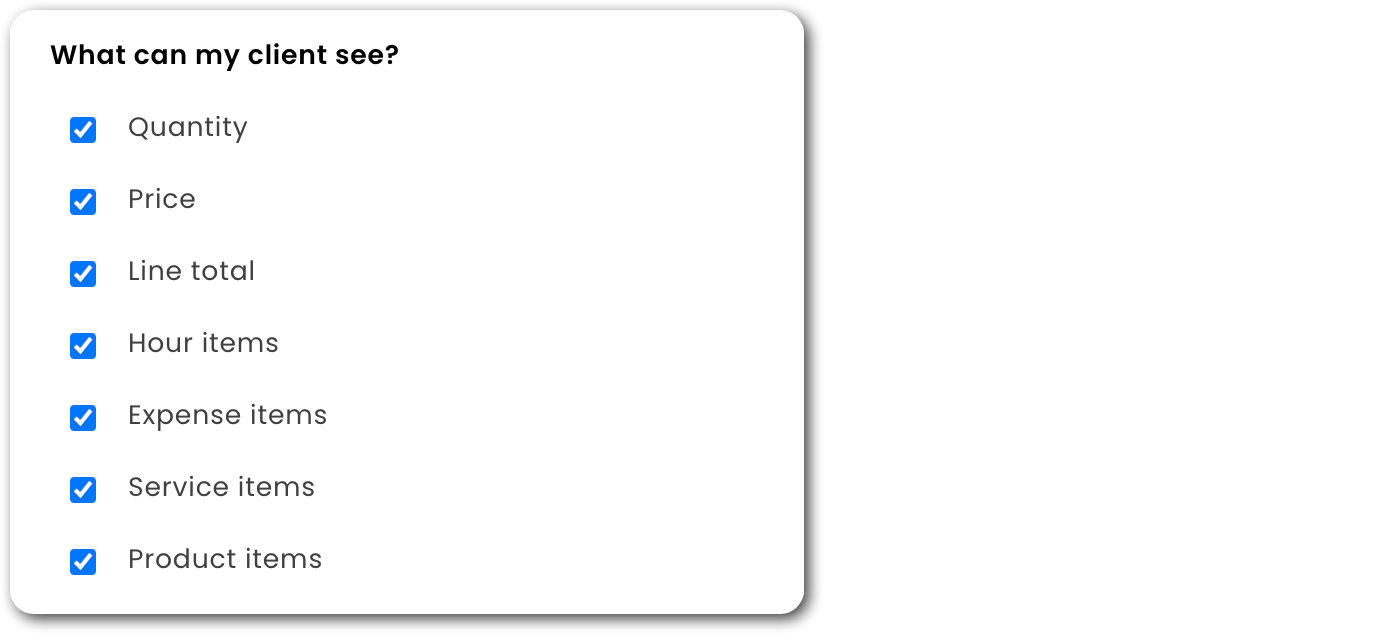 Custom document basics: Editing text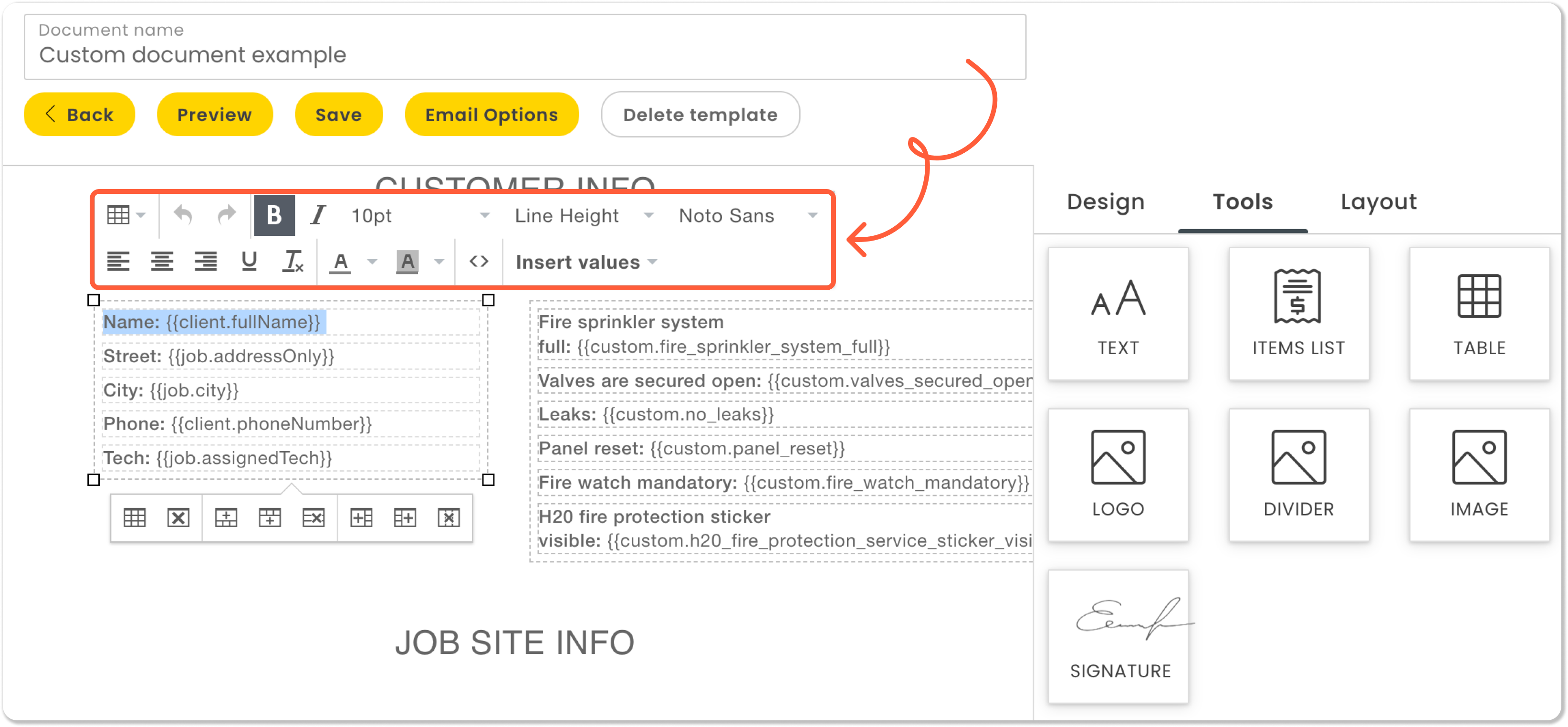 The text you add using the Text or Table tools can be edited. Select one of these blocks and you'll see a mini toolbar similar to the ones used in many text editors.
Here, you will find tools to edit the font, text alignment, and add other placeholder items from the short code library, among other tools.
Custom document basics: Short code

The mini toolbar will also provide access to the short code library. Short code is a way to ensure that your documents are generated intelligently by automatically pulling the information you have already entered in Workiz.
The short code is only designed to be a placeholder for the document builder. The documents you generate and send to your clients will not feature any curly brackets.
You can access the short code library by selecting Insert values and choosing one of the options available.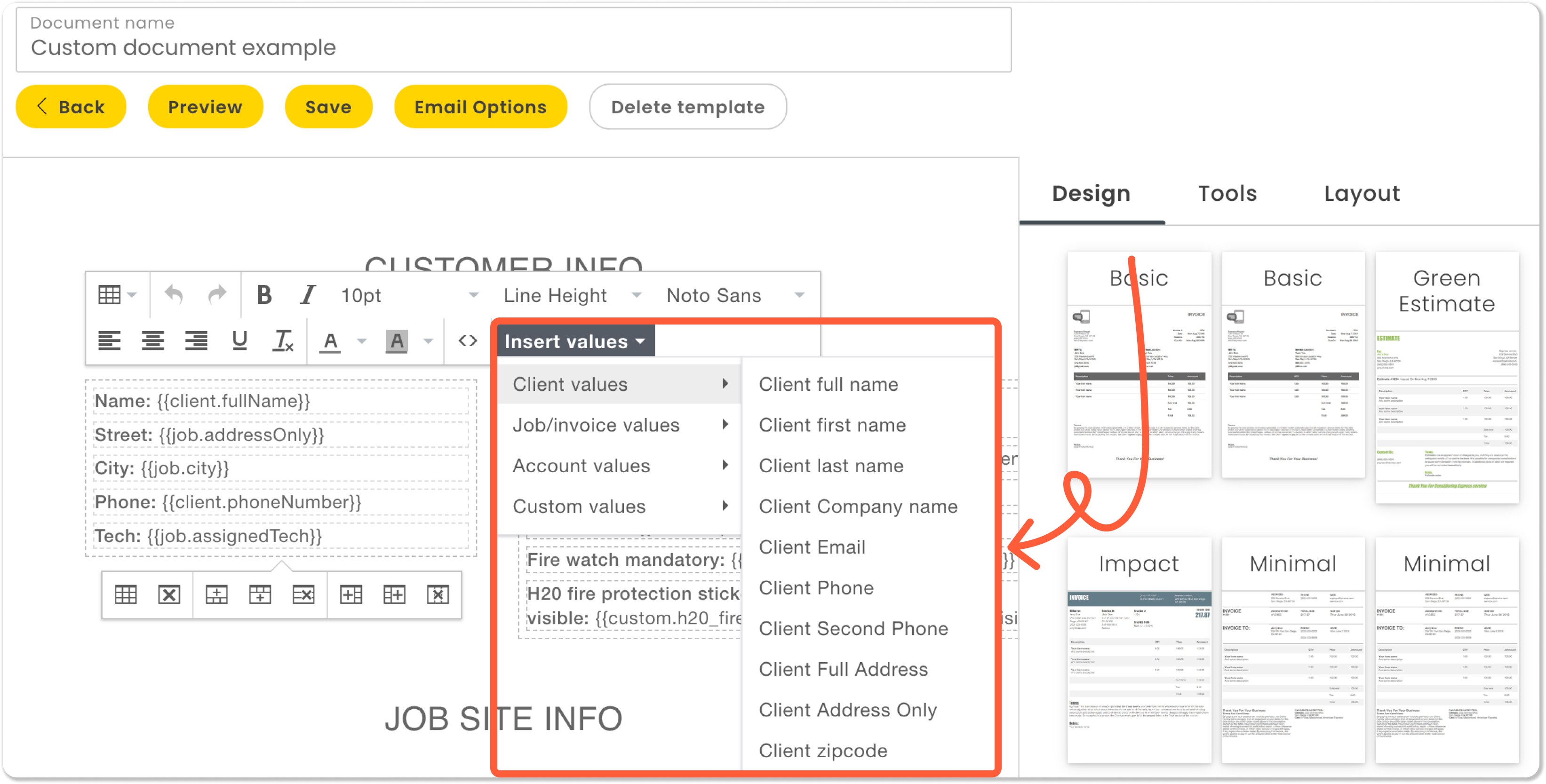 Previewing and saving your document
Once you're done making edits to your document, you can preview your document by selecting Preview.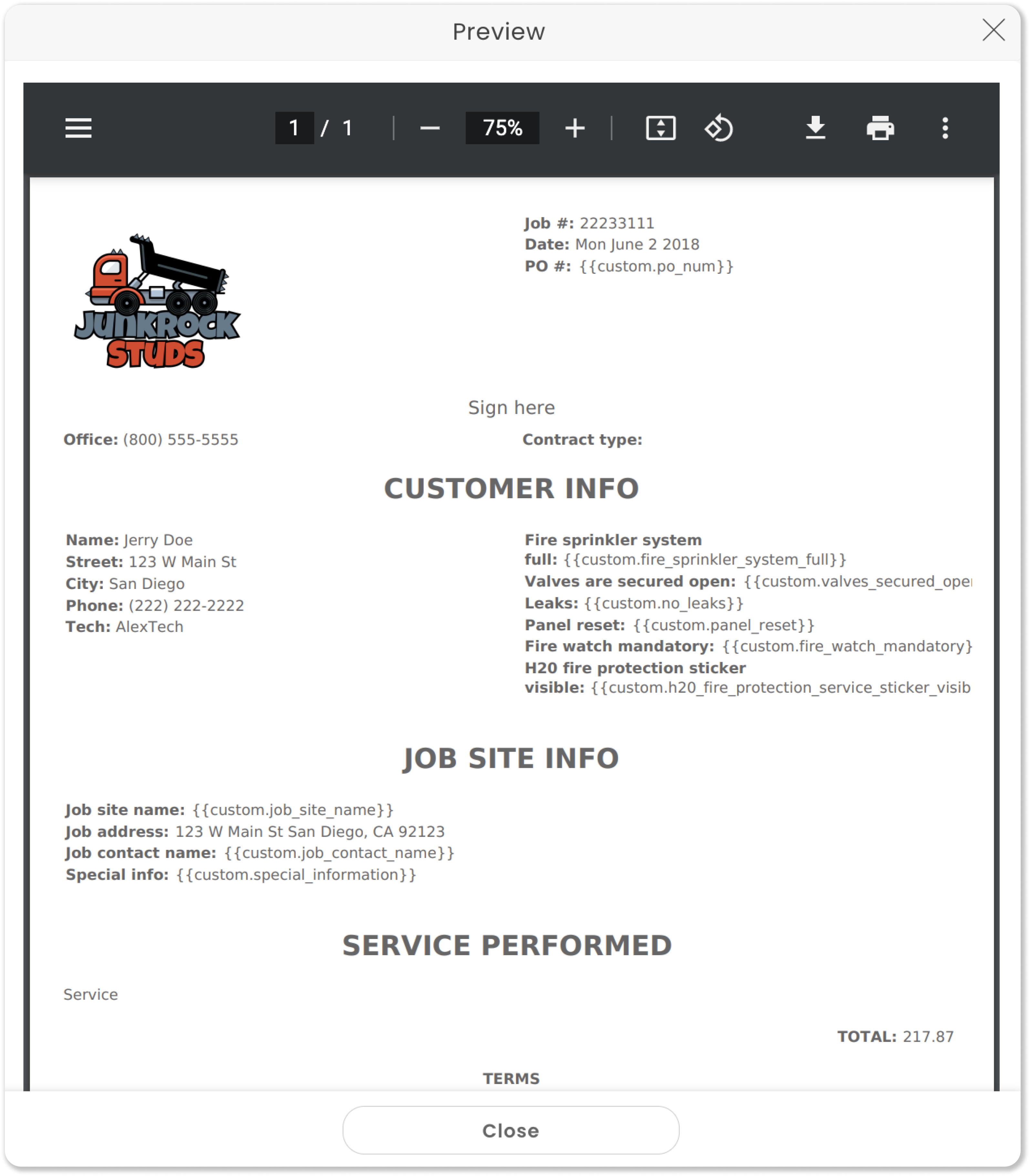 If you're satisfied with your document, select Save to save your changes.