In this article, you will learn how to talk to your customers about flexible payment plans available through Sunbit.
Sunbit is a buy now, pay later (BNPL) technology company that makes it easier for your customers to say yes to your services by offering access to flexible installment plans.
With Sunbit, you can offer your clients access to flexible payment options that ensure you receive the full payment for your services up front while allowing your clients to pay in installments over time — including the option to make four payments at 0% interest for your clients. It's fast, easy, and a win-win for both you and your clients.
Talking to your customers about payment plans
Installment loans have been around for a long time for purchases like cars, home appliances, and other common expenses. But they are relatively new to the field service industry, which is why it's important to be able to effectively communicate the option to your clients.
Here are some key points to remember:
Not all loan options include interest: A client doesn't have to commit to paying interest by opting in to an installment plan. While many plans do include interest, Sunbit offers the option to make four payments at 0% APR.
This won't impact the service: A client doesn't have to pay for the full charge right away, but still benefits from your service (an amount due at checkout is required).
Approval rates are high: Historically, approximately 90% of applicants have been approved for Sunbit payment plans.
There's no hard credit check: An application won't affect a client's credit score, but account openings and payment activity are reported to a major credit bureau.
Applying is quick and easy: A client only has to provide some basic information before they're presented with several payment plans to choose from (if they're approved).
Sunbit also provides an example monthly payment reference chart you can use to better communicate how a payment plan could look for your customers.
This chart should only be used as an example. While approval rates have historically been high, exact payment plans may vary based on the individual client's creditworthiness and other factors.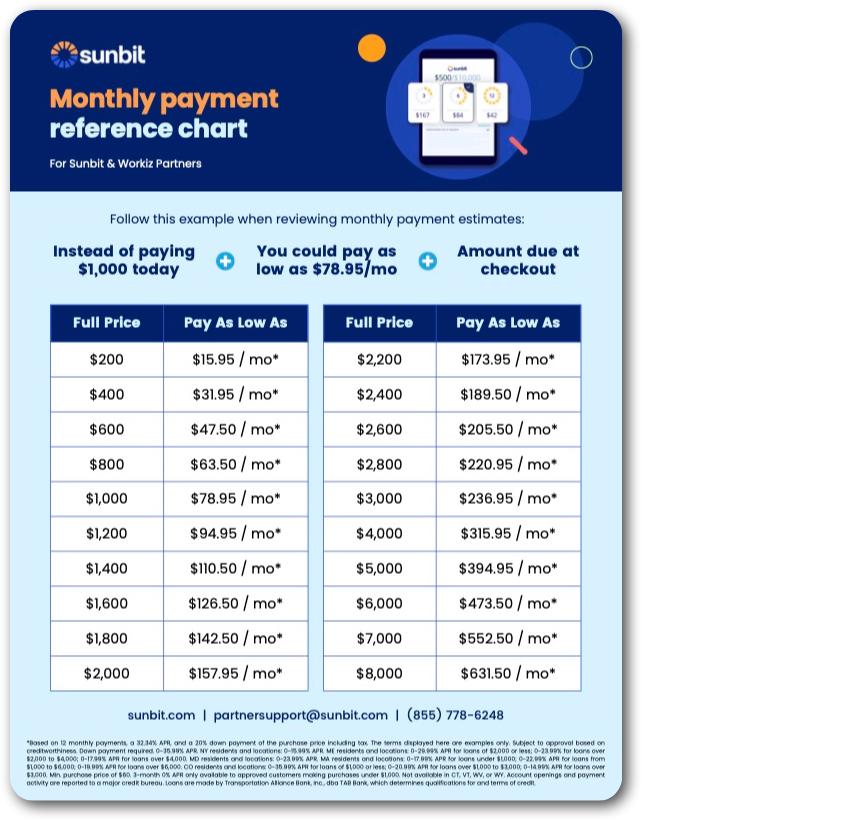 Sunbit training
Interested in learning more about how to offer flexible payment plans to your customers? Sunbit offers personalized 1-on-1 training to help you and your techs learn some of the best practices associated with offering flexible payment options. To learn more about Sunbit's training, please click here.