In this article, you will learn how to convert items into trackable inventory items in Workiz.
Items and services are reusable line items you create and store on your Workiz account to save yourself time when creating estimates or invoices. You can add useful information like the item's name, cost, and the price you want to charge. On their own, items and services cannot be tracked to monitor stock levels.
While you can create new inventory-managed items from the Inventory dashboard, you can also convert your existing items into inventory items to save yourself some time.
How to convert items into inventory items
In order to convert reusable line items into trackable inventory items, you will first need to enable the Inventory add-on from the Marketplace.
To learn more about enabling the add-on, please see this article.
From the navigation bar, select

> Settings
Under Job Settings, select Items & Products


Select the item or product you want to convert into an inventory item
Turn the toggle switch for Manage Inventory on and select Save
Once you convert your item into a trackable inventory item, the item will now feature a box icon when adding it to jobs, estimates, or invoices.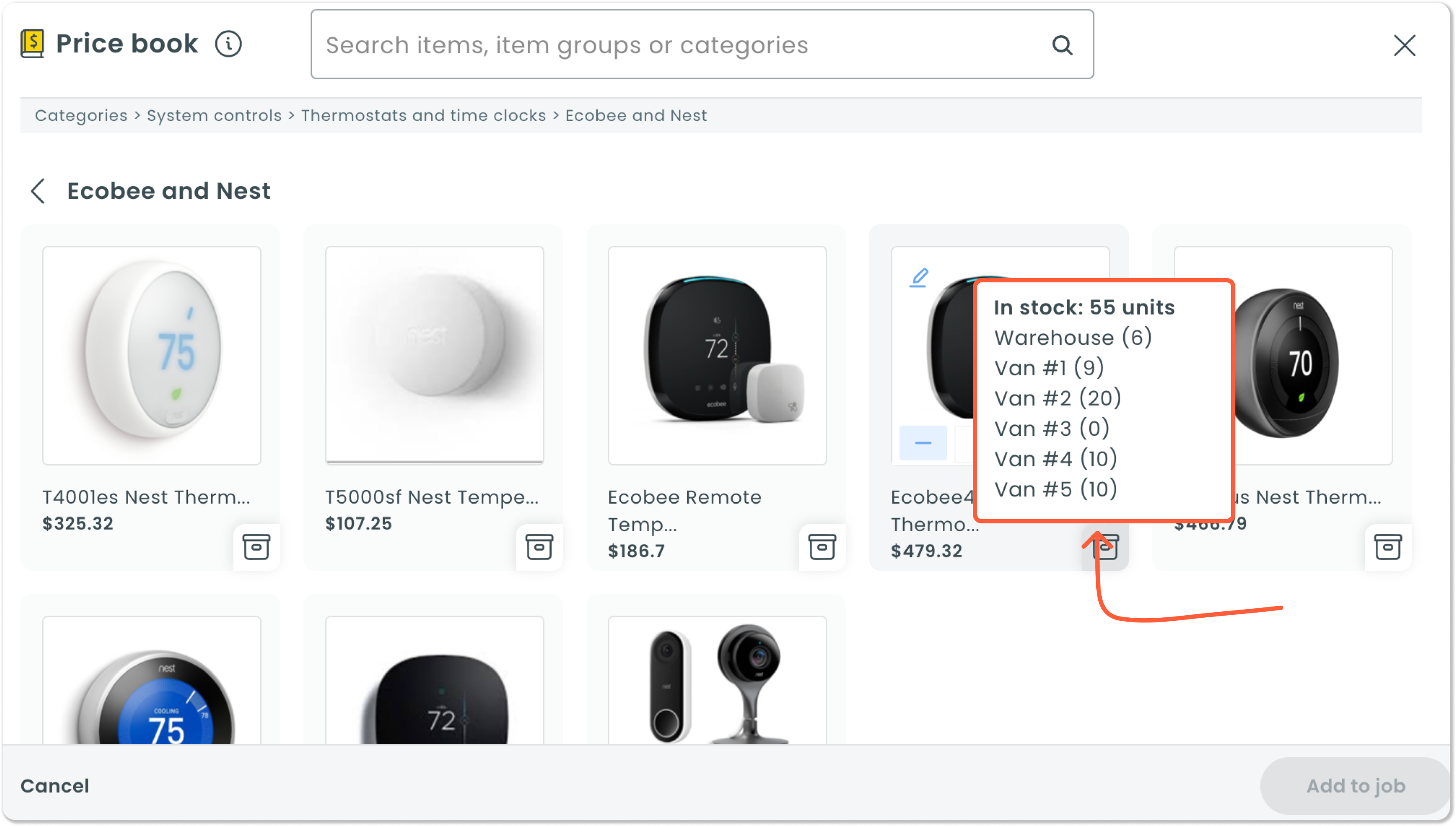 Updating your inventory item
Updating inventory item details
Now that you've added a new item to your inventory, you will need to update that item's information from the Inventory page.
From the sidebar navigation, select Inventory
Next to the item you want to update, select



Edit your inventory item:


Category
Brand
SKU
Re-order at: Enter the stock number that should trigger a reminder to restock your inventory for the item you are creating
Select Save
Updating inventory item stock
Next to the item you want to update, select



Edit your location stock:

Decide which location inventory you want to add units to and select

Enter the number of units you want to add to this location and select Save
Repeat Steps 2a–2b until you have added stock to all your desired locations