In this article, you will learn about how to connect Workiz with Google's Local Services Ads.
What is Google's Local Services Ads?
Google's Local Services Ads helps businesses like yours easily connect with customers who use Google to search for services that you offer. Local Services Ads can take your business to the next level by boosting your visibility, giving you a badge of trust and credibility, and targeting local customers.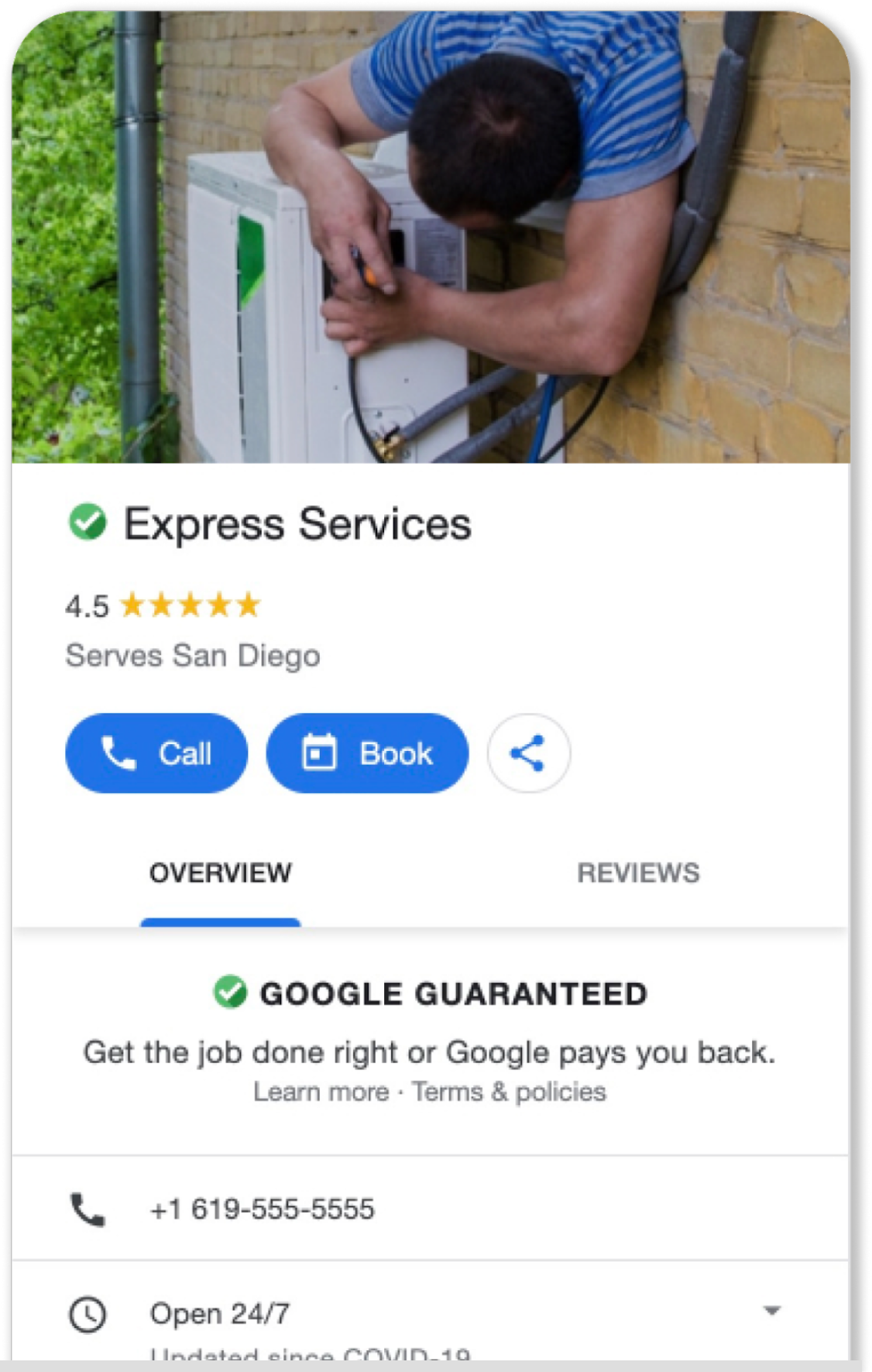 With Workiz's integration, new bookings from Local Services Ads will get added right to your calendar. You'll even get a notification right to your Message Center, giving you quick access to:
View the booking information
Communicate with the client
Make quick changes to the booking
Who can sign up?
In order to use Workiz's integration with Google Local Services, your business must have a Google Guarantee badge.
Google Local Services Ads is also only available for businesses in the US that fall under the following industries:
Appliance repair
Carpentry
Carpet cleaning
Cleaning
Countertop installation and repair
Electrical
Fencing
Flooring
Foundation repair
Garage door installation and repair
General contractor
Handyperson services
Home inspector
Home security
Home theater
House cleaning
HVAC
Junk removal

Landscaping
Lawn care
Lawn care services
Locksmithing
Moving services
Painting
Pest control services
Plumbing
Pool cleaning
Pool contracting
Roofing
Sewage system services
Siding installation and repair
Snow removal
Tree services
Water damage restoration
Window cleaning
Window repair
Not seeing your industry on the list? You can check your eligibility using Google's latest guidelines here:
Enabling the Google Local Services Ads integration
From the navigation bar, select the Marketplace
Under Integrations, select Google's Local Services Ads

Turn the toggle switch on to enable the integration

Select Connect Google's Local Services Ads
Connecting Workiz to Google's Local Services Ads
Enter your business information:

Your business information must be entered exactly as it appears on your Google listing.

Business name
Business address
Business phone
Business website
Google's Local Services Ads customer ID

Set your availability:

If you are already using the Booking Services add-on, altering your availability for this integration will also affect your booking availability.

View and edit hours
Time slot length
Business availability based on: Choose one of the following options as desired:

Allow double booking: Allow clients to schedule appointments regardless of existing availability
Based on tech's availability: Only allow clients to schedule appointments based on your team's availability
Choose number of jobs per slot: Only allow your clients to schedule a certain number of appointments per time slot

Minimum notice time: Choose the minimum amount of time you need before a job can be booked

This will determine how soon your clients will be able to book a service with you.

For example, if you choose 1 hour and your client accesses your listing at 2 p.m., the earliest available time slot will be 3 p.m. If you need more or less time to prepare for a job, adjust your choice accordingly.

Define your available services

Choose the service you want to offer
Choose the Google service type that most closely matches your service type
Enter an estimated price for this service
Repeat Steps 3a–3c until you have added all of your desired services

Select Connect schedule
It will take approximately 3–4 business days for your accounts to be connected. You will receive an email once the process is complete.
What leads will see
When prospective clients search for services on Google, your business will be listed in the results alongside other local businesses capable of performing the service.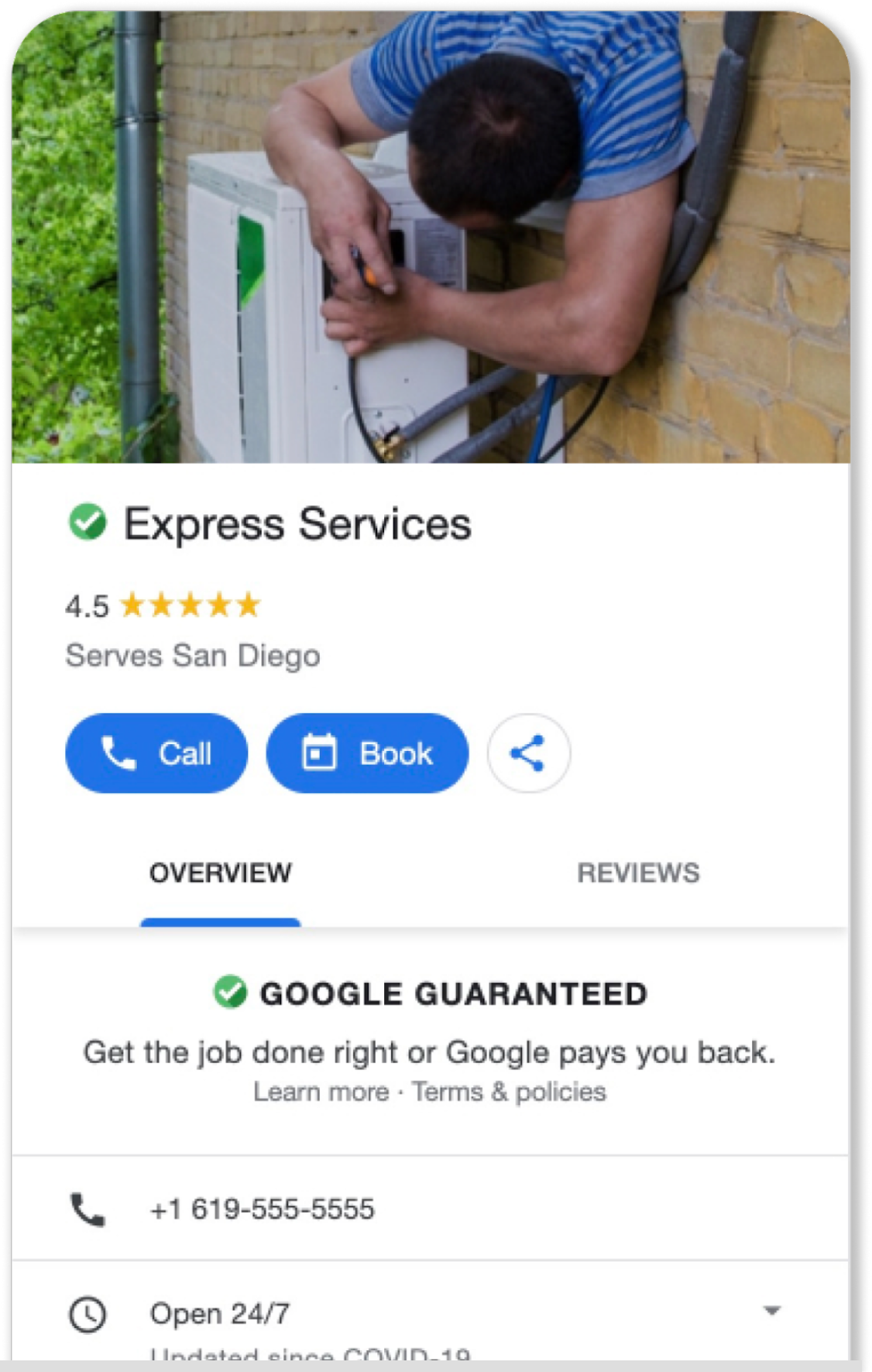 After selecting the Book option, leads will be taken to a page that features all of your services before being taken to a scheduling page.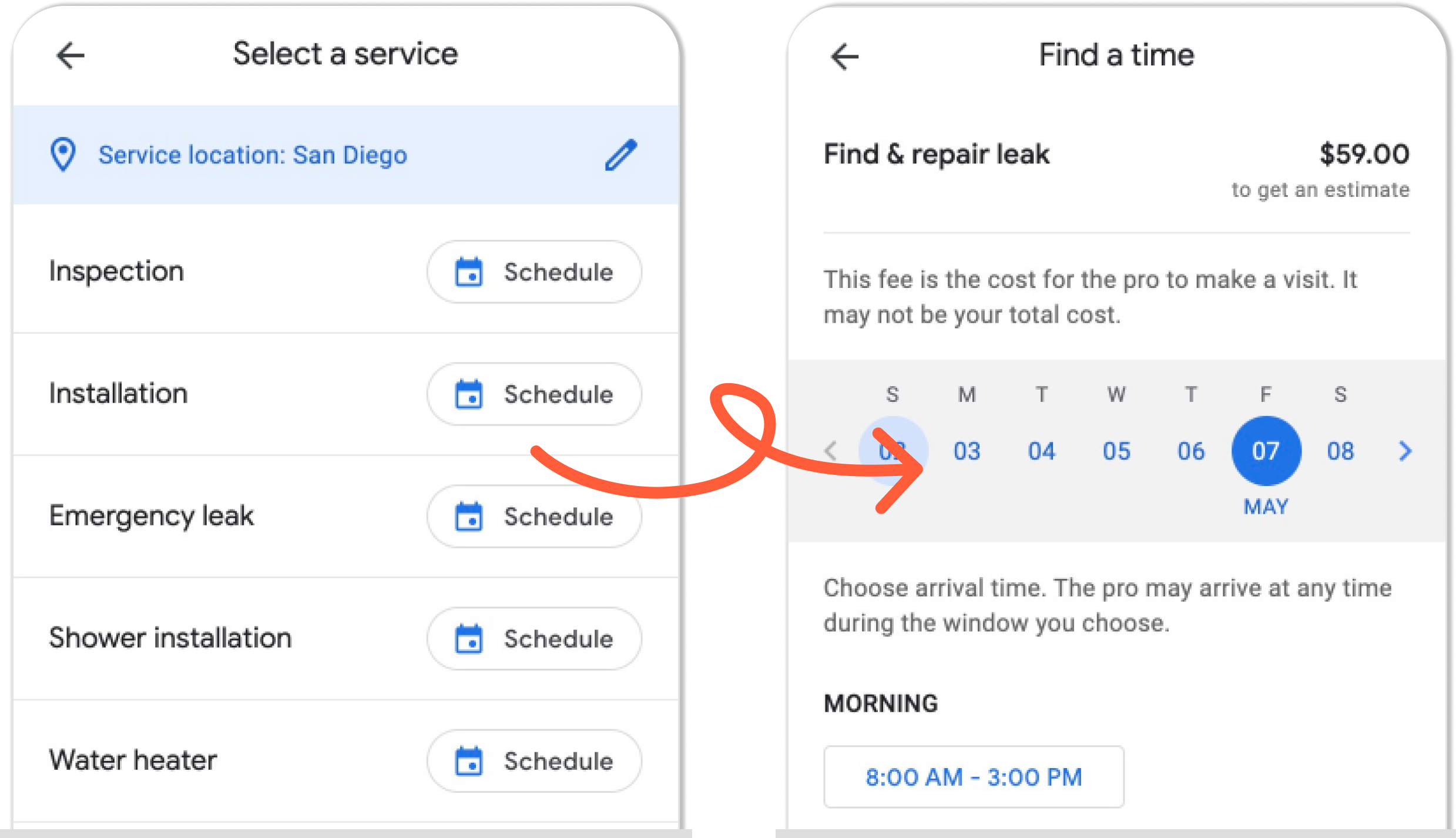 What you will see
Once a job is booked on your Google's Local Services Ads listing, the following will take place:
You will receive a notification of the booking to your Message Center

You can communicate with the customer by replying right from the Message Center.

The job will automatically be added to your schedule

Jobs from Google's Local Services Ads will not be added with an assigned tech. You can easily add a tech right from the Message Center.