In this article, you will learn how to convert service plan visits into jobs.
Service Plans is a great tool for creating and managing recurring visits for general services or maintenance. With Service Plans, you can easily create service plan templates and subscribe your clients to those plans — not only allowing you to account for recurring work, but also ensure you are automatically getting paid on time.
In order to use Service Plans, you will first need to enable the add-on.
To learn more about enabling this feature, please see this article.
Understanding service plan visits
After receiving payment from your clients for a service plan, Workiz will automatically generate all of the visits for the service plan. You can view these visits from:
The Visits tab on a client profile
The My visits tab from the Service Plans dashboard
Your schedule

Visits will be added to your schedule as unassigned events at 9 a.m. on weekdays (Monday–Friday).
The visits you create from your service plan subscriptions are designed to be converted into jobs. Before converting them into jobs, visits will simply serve as placeholders on your schedule. You will not be able to make changes to these visits until after you convert them into jobs.
How to convert service plan visits into jobs
From the client page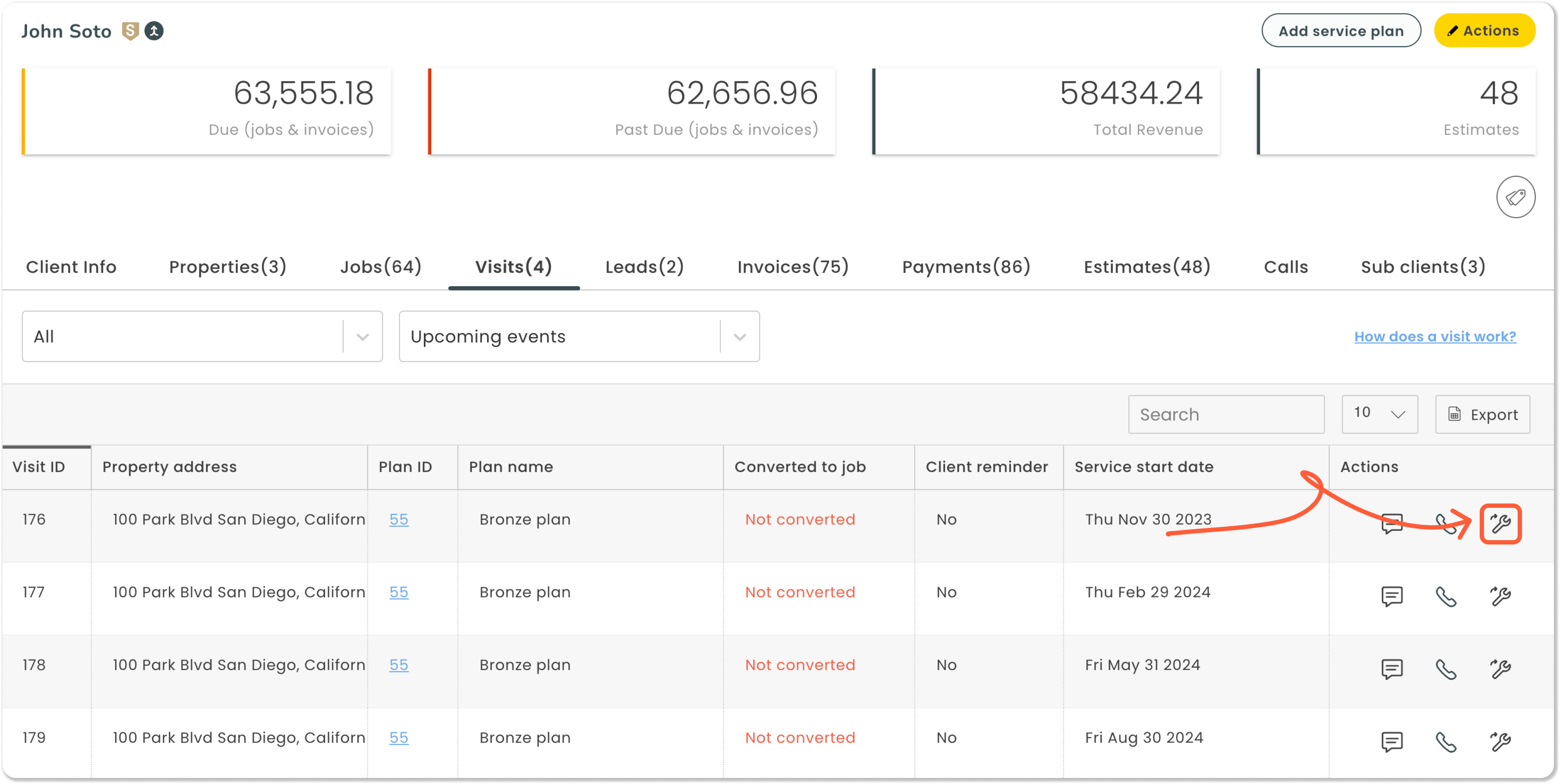 The client's profile page will now have a Visits tab.
From here, each visit will feature a quick action to convert the visit into a job.
From the Service Plans page

While you can open a client's profile page to see the visits linked to a specific client, you can also open the Service Plans page to view all of the visits across your account.
From the sidebar navigation, select Service Plans and then open the My visits tab. Here, you will see the same quick action to convert a visit into a job.
From the schedule page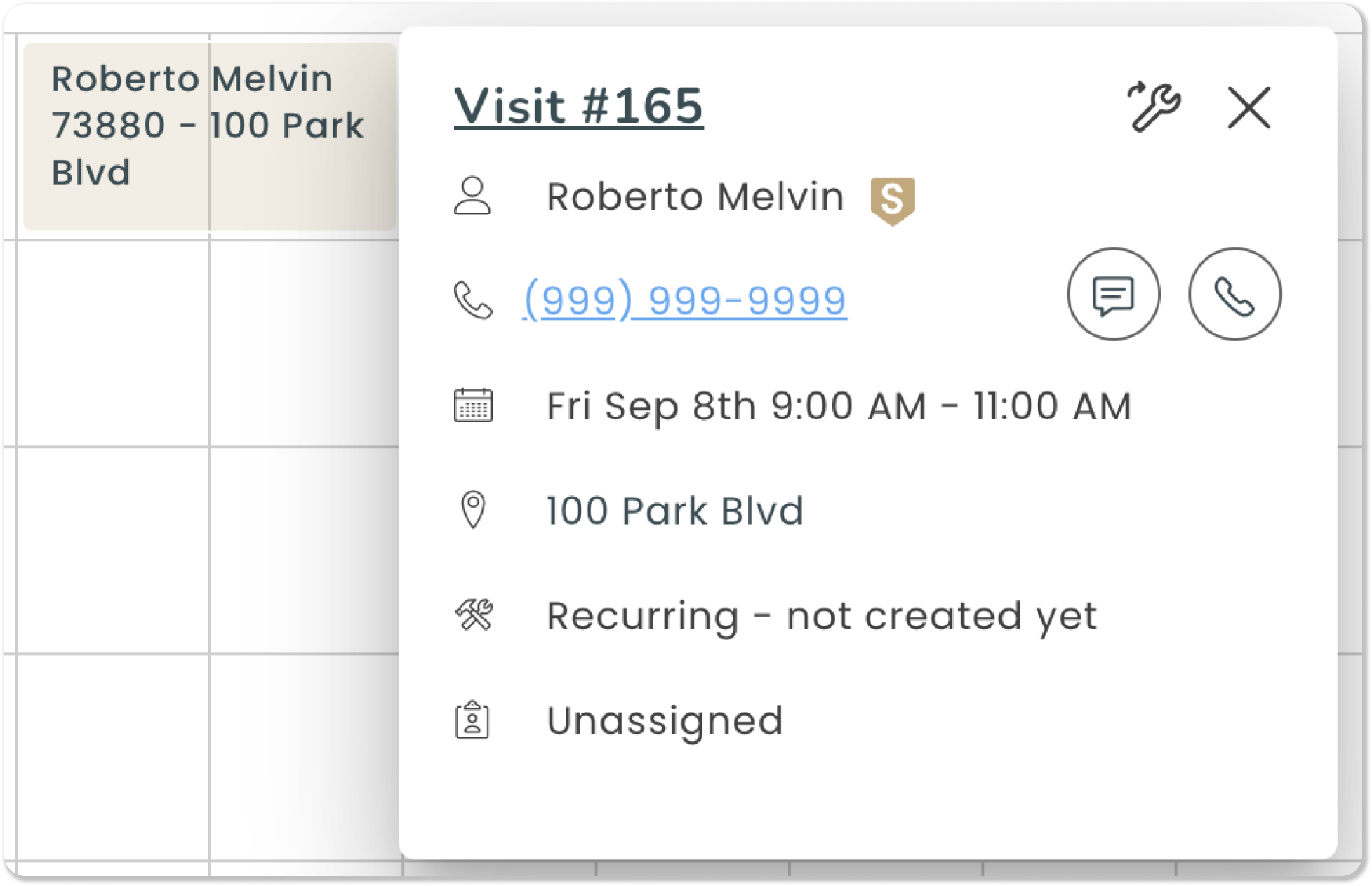 Visits will appear on your schedule alongside jobs, leads, and tasks. Visits will have a semi transparent appearance, allowing you to quickly glance through your schedule and determine what needs your attention.
Selecting a visit from your schedule will provide you with the ability to convert the visit into a job.
Jobs created from visits

All jobs created from a service visit will automatically receive a job tag of Service Plan.
This will make it easy to filter all the jobs linked to service plans, as well as create automation rules around jobs linked to service plans.
Managing service visits with automations

While you can use your schedule to keep up with the visits that need to be converted into jobs, Workiz also helps simplify this process using Workiz Automations.
After creating your first service plan, Workiz will create automation rule that sends your clients a reminder 14 days before their upcoming service plan visit. This rule is added to your account by default, and will not count towards the number of rules included on your Workiz plan. This way, your client knows to contact you to book a specific time and day for the job.
You can also create custom automation rules to send reminders to members of your team, preventing a service visit from ever falling through the cracks.
Once a service plan visit is converted into a job, this automation rule will no longer apply. Converted jobs will then fall under the automation rules you have for jobs.