In this article, you will learn how to cover some of the costs associated with offering card payments in Workiz.
You can help mitigate the various costs associated with offering card payments with Workiz Pay using two different methods:
Requiring clients to pay a service fee may not be permitted in all states. Please ensure that your use of this setting complies with all applicable laws.
Workiz does not provide legal advice.
Method 1: Enabling service fees
Enabling service fees is the most efficient way of adding an additional charge in order to cover for various costs associated with card payments. After enabling this feature, the fees will seamlessly be added as a percentage of the total (after taxes and discounts) when clients pay with a card.
From the sidebar navigation, select Workiz Pay
Select the My account tab
Under Service fees, turn the toggle switch ON to activate service fees

Check the box to acknowledge and agree that your use of this feature is compliant with all applicable laws in your state


Select Save service fee
What your clients will see
When opening a link to view and pay an estimate or invoice on the Workiz client portal, the service fee will be listed in the invoice summary alongside the amount, subtotal, and tip.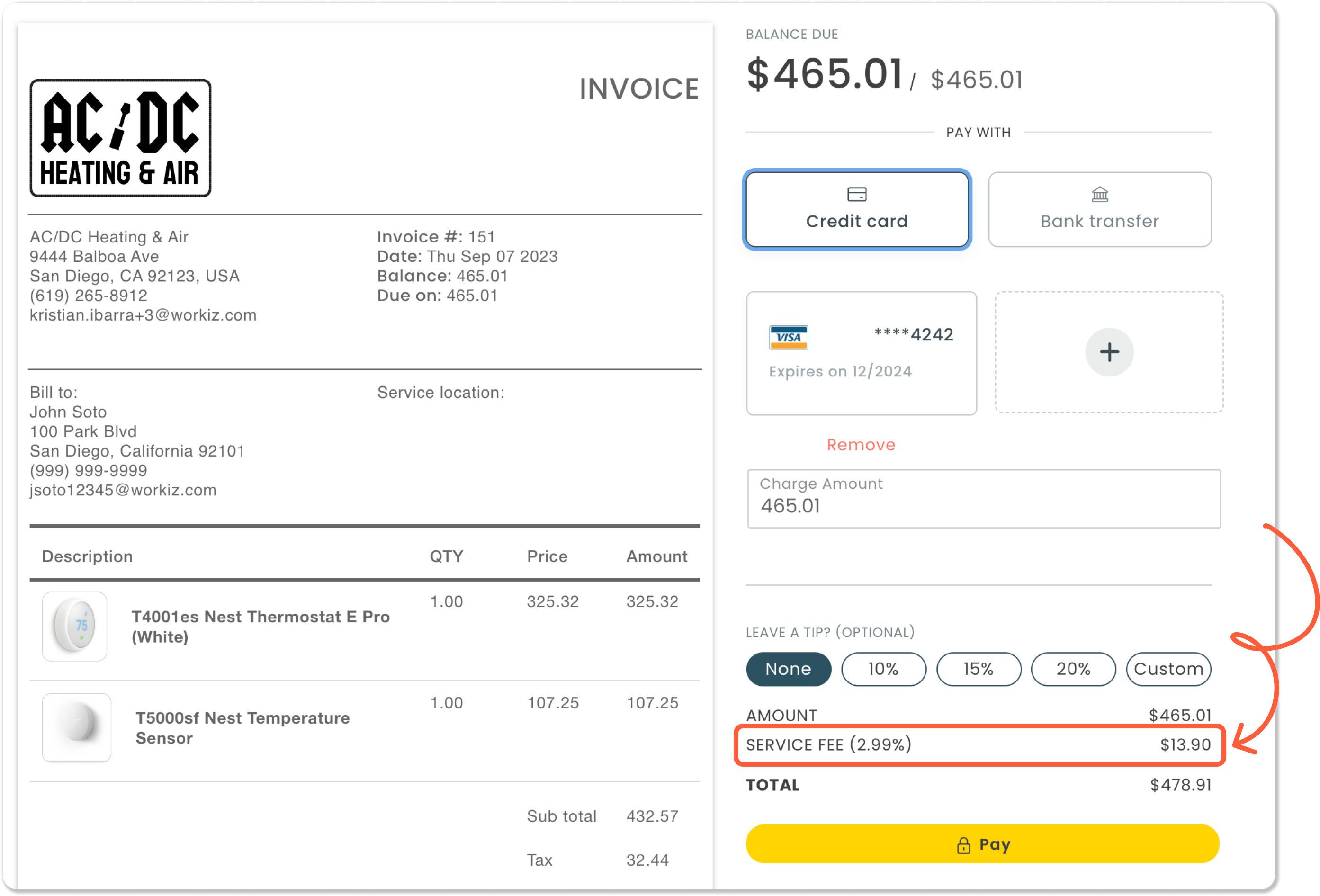 Method 2: Manually adding a line item
If you'd prefer to manually mitigate the costs associated with allowing card payments, you can add a line item instead of using the service fee feature.
From the navigation bar, select Settings > Settings
Under Job Settings, select Items & Products


From the Items & Products page, select Add New
Create your line item:



Title: Enter Convenience fee
Item description: Enter Credit card processing fee
Price: Enter 0.00
Taxable item: Turn this toggle switch OFF
Select Save
You will now be able to add this line item to your estimates and invoices with just a click. When adding this line item, you will need to manually edit the price you want to charge so that it reflects an appropriate service fee.